You want to charge me money for sim racing here? Why?
Since the formation of CSM, organizers have been incurring operational costs related to the Website, Servers and some other administrative expenses. We have gladly taken on this cost for the love of sim racing and for you all, but a membership fee will allow us to continue to expand and do greater things going forward. All membership fees will go back into the running and expansion of CSM.
However, we do recognize that not everyone may be able to monetarily contribute at this time, and we would not want to prevent anyone from being able to drive in our events. Free members can continue to participate in all CSM Community Series and Championships with the exception of some TBA special events.
How do I pay my membership fee?
Memberships fees will be paid to the Barbados Motoring Federation. They are currently in process of setting up a payment method that will work internationally. This is still a work in progress. Drivers that chose either the Community or Elite tier, will eventually receive an invoice that can be paid electronically. More details will be provided on this as soon as it is available. It is possible that our Dirt Rally 2.0 championship or the ACC championship may launch prior to the payment method being available. If this is the case, please pay the invoice promptly to establish your prize eligibility.
If I am already a registered member on the website, how do I select my Membership?
Login and go to 'My Driver Profile'. Click the Settings icon in the top right corner of your profile, and click Edit Profile. Fill in your Membership Tier, Age (a new requirement we need for membership), and whether you are interested in running Endurance/Team Events with CSM. Click Update Profile once you have filled in the info.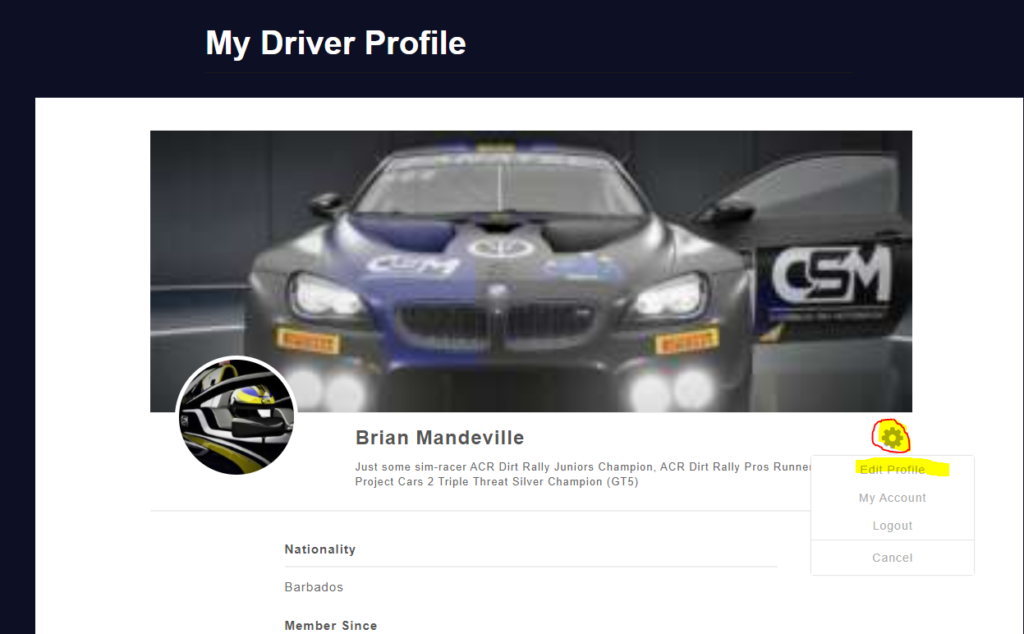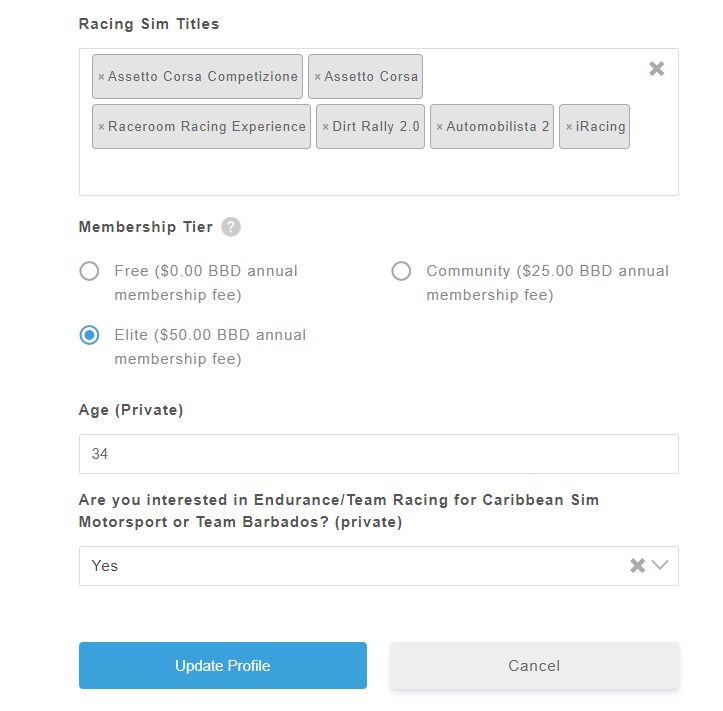 Will I need to become a paid member for eligibility for prizes in the Virtual Bushy Park Clubman Series?
No, the Virtual Bushy Park Clubman series will continue to be Free entry. Members on the Free tier are still eligible for prizes.
What are the 'CSM Championships' that will require to be paid members for eligibility of prizes?
For the first time, we will be looking to introduce prizes into the CRC Rally Championship (on Dirt Rally 2.0) and the CSMTC GT Championship (on Assetto Corsa Competizione). Only members on the Community or Elite tier will be eligible to win these prizes. Free members will not be eligible for prizes.
What are these 'endurance events' that I need to be a paid member for?
This year we hope to expand our participation in various endurance sim racing events as part of the Caribbean Sim Motorsport Endurance Team. In order to represent CSM in these events, you will need to be on the Community or Elite tier.
What is this about a 'Team Barbados' and participating in FIA Esports?
Caribbean Sim Motorsport is now a member of the Barbados Motoring Federation, and we will be looking to hold trials for establishing a Team Barbados that will represent Barbados in official FIA esports events. Depending on the COVID situation going forward into 2022, this could include international travel to these events if you are selected for Team Barbados. In order to be eligible to partake in Team Barbados trials, you need to be a Barbados citizen (holder of either a Barbados passport or Barbados identification card).
If I am a non-Barbadian, is there any additional benefit of signing up for the Elite over the Community?
The main benefit of the Elite tier is the eligibility for Team Barbados, which a non-Barbadian is indeed not eligible for. We have at least one event in the works that will be only for Elite members, but other than that we would only suggest the Elite tier for an international member if they wanted to contribute the additional funds to CSM.